Medal of Valor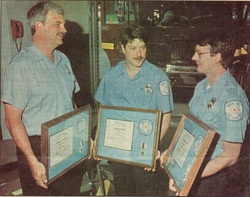 In 1992, Firefighter James A. Render, Firefighter Jeff Kaiser, and Firefighter Dale Barschak were awarded the Medal of Valor for their efforts to rescue three district residents from a burning home. They were awarded this prestegious honor during a ceremony at the firehouse where they also received recognition from Congressman Jerry Costello after he acknowledged their accomplishments in the congressional record. Numerous other firefighters, offficers, medical workers, and telecommunicators were recognized for their assistance and support of the operations of these rescues.
---
---
Firefighter of the Year
Since 1988, the Signal Hill Fire Department has recognized those firefighters that go above and beyond the call of duty for the department, residents of the district, and other members of the department. Below is a list of those persons recognized as the Firefighter of the Year.
1988 - Kathy James
1989 - Tom Elliff
1990 - Ed Triska
1991 - James F. Melichar
1992 - Gayle C. Schmisseur
1993 - Jeffery B. Fournie
1994 - J. Alan Render
1995 - Dale Barschak
1996 - Robert Parker
1997 - Theodore A. Higgins
1998 - Andrew Nicholson

1999 - Scott Grulke
2000 - Ed Triska
2001 - Wayne Lindauer
2003 - Patrick Cowden
2004 - Gary Bainter
2006 - Dave Mohr
2007 - Ralph Conrath
2008 - Jennifer E. Anderson
2010 - Jace Wilderman
2011 - Michelle Hudson
---
50th Alarm Club
Three persons have been recognized by the fire department for their 50+ years of service to the fire department.

Edward Triska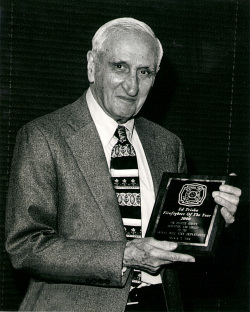 Serving since the inception of the fire department in 1946, Ed
Triska had the distinct honor of becoming the first member with 50 years of service. Ed was honored for his service in 1996 with a special award, and the recognition of becoming the 2000 Firefighter of the year. Ed continued to serve the fire department until he passed away in 2001.

---
Gayle C. Schmissuer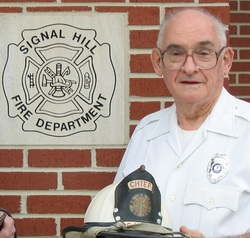 In 1958, Gayle C. Schmissuer officially joined the fire department. While growing up as a young man, Gayle lived a block away from the firehouse and was a part of the department before officially becoming a firefighter. In fact, there is a picture in the fire department archives of a young Gayle Schmissuer on top of one of the first firetrucks. Gayle served as Chief of the Department from 1977 till 1991 and has served as a member of the Board of Directors since then. Gayle is probably best known around the department for his love of the former Signal Hill Firefighters Picnic which he served as chairman of the picnic committee for several years, and his unique ability to aquire a variety of items.
---
James F. Melichar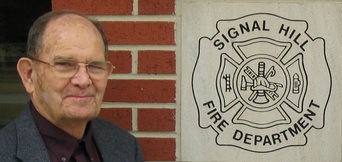 Having joined the department in 1959, Jim has served the department in many ways over his 50+ years of service. Jim served as an officer of the department for several years, including his tenure as Chief from 1974 til 1977. Jim served as President of the Board of Directors of the Signal Hill Fire Protection Association for many years, and continues to serve as a member of the Board of Directors today.
---
---
Illinois Fire Chief of the Year
Chief Greg Render - 2009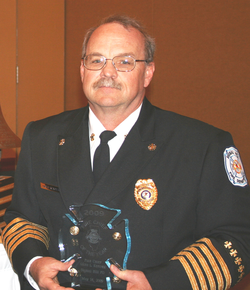 On May 14, 2009, Chief Greg Render was recognized as the Illinois Fire Chief of the Year - Volunteer Sector at a ceremony in Peoria, Illinois. Having been nominated by his peers, Chief Render was selected for his continued support of the fire service not only for the Signal Hill Fire Department, but also for departments throughout the region, the state, and all over the country.
---
---
55 Years of Service
Gayle C. Schmissuer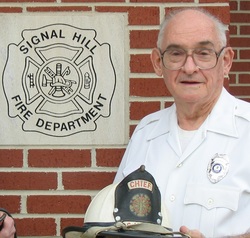 For slightly over 55 years, Gayle Schmisseur has been serving his community a volunteer firefighter. Having grown up in Signal Hill, Gayle has many stories and tales to tell as the Fire Department's unofficial historian.

Gayle has served in Fire Department in many capacities -- firefighter, captain, chief and is currently a member of the Board of Directors. In addition, he chaired the Annual Firefighters Picnic for a dozen or more years. Gayle also fabricated picnic stands and trailers, hose racks and rollers, and a variety of other equipment, often times at his own expense.

Gayle retired from active firefighting several years ago but is still a regular at the firehouse on a weekly basis. He still is assigned "special" tasks which he accomplishes with an attention to detail, albeit at a slower pace.

Gayle is a member of the Fire Department's exclusive 50th Alarm Club, honoring those members that have volunteered for more than 50
years. The other members of the 50th Alarm Club are the late Ed Triska who served just shy of 56 years and Jim Melichar who has slightly more than 53 years of service.

Gayle was recognized for his dedication and commitment for service to others at the Fire Department's Annual Appreciation Dinner held on March 2nd.



---