Smoke Detectors

Change your clock, Change your battery.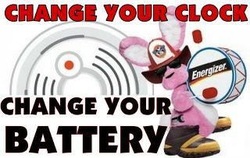 March 11, 2012 - Mark the date on your calendar today!

Soon it will be time to change your clock's back one hour. Take the time to change the batteries in your smoke and carbon monoxide detectors.


---
It's a documented fact--smoke detectors save lives. The majority of fatal home fires occur at night, when the victims are sleeping. Many people think they'll be awakened by the smell of smoke, but the truth is, the smoke and gasses from a fire actually put people in a deeper sleep. And victims often die from the smoke and fumes long before the fire reaches them.

But how can you be sure you have the right kind of device? How do you know if it's placed in the right part of your house? How do you know if it's even working? After all, it's estimated that about one-third of all residential smoke detectors in the United States aren't functioning properly. And with an estimated 2-million residential fires occurring every year in the U. S., it's important to make sure yours isn't one of the broken ones.


Types of Smoke Detectors
Ionization Smoke Detectors - These devices sound an alarm when smoke reduces the electric current within the unit. An ionization detector also picks up both visible and invisible particles from smoke and fire.

Photoelectric Smoke Detectors - In a photoelectric alarm, there is a tiny beam of light within the unit. The alarm sounds when that beam becomes blocked by smoke particles.

There are also detectors that combine the methods used in ionization and photoelectric devices. First Alert also makes a detector that comes with a silencer, which will allow you to shut the unit off for up to three minutes during a false alarm. These new alarms are made for use in the kitchen, where there might be an inordinate amount of non-threatening smoke due to cooking.

Whatever kind of smoke detector you decide on, be sure that it's certified by either Underwriters' Laboratories or Factory Mutual. These groups are the most nationally prominent product testing organizations. The certification seal should appear somewhere on the outside of the box, and on the unit itself if you want to check an existing one.

A/C vs. D/C - You will also have to decide whether to get a battery-operated unit or one that's hooked up to your home's electrical system. Both types have advantages and disadvantages.

With an electrical alarm, the advantage is that you never have to worry about the battery going dead between tests--and you'll never have to worry about changing the battery every year. Aside from monthly testing, there's relatively little maintenance. But the disadvantage is that the alarm won't work if your power is out. And if a fire has shorted out your electrical system before the alarm sounds, the detector won't be able to alert you.

A battery-operated unit takes care of the power problem. If your power goes out because of a fire, it'll still be able to function. But that's assuming the battery works! The disadvantage to a battery-operated alarm is that it must be checked more often to make sure it's operating properly. It's recommended that you check a battery-operated unit weekly, and change the batteries every six months.

You can also find an electrical unit with a battery backup, but those will be the most expensive.

Placement
Where you put your smoke detectors is almost as important as making sure they're working. State law in Illinois requires that you have an alarm on every level of your house, including the basement and attic and within 15 feet of the sleeping areas.

For more safety, if you sleep in a bedroom with the door closed at night, you should have units inside each bedroom.

Fire loves stairways--there is lots of fuel and oxygen in a stairway. Therefore you should place a detector at the bottom of each stairwell in your home.

You should also place a detector near spaces where fires might break out--like a workbench or laundry room.

Even if you live in a one-level home, you should have a minimum of two smoke detectors.

Walls vs. Ceilings - Smoke detectors should be placed on ceilings whenever possible, at least four inches away from the nearest wall. If you have a pitched or cathedral ceiling, the alarm should placed at or near the ceiling's highest point. But wherever you put them, make sure they're AWAY from ceiling fans or air ducts. You don't want anything that might push smoke away from the unit.

If you mount the smoke detector on the wall, it should be between 6 and 12 inches below the ceiling.

Try to keep smoke detectors away from bathrooms that might let out a lot of steam when the door is opened after a hot shower. The steam can produce false alarms.

TipsThe National Fire Protection Association estimates that about one-third of all residential smoke detectors in the United States do not work properly. To make sure you don't have one of those malfunctioning units, follow these useful tips:


Test your detector - Experts recommend that you should run a test of every detector in your house anywhere from once a week to once a month. All units should have an easily-accessible test button.
Check your batteries! - You should check your batteries every six months, and change them every year. A good rule of thumb is to check the batteries when you turn your clocks ahead in the spring, and then change the batteries when you turn your clocks back in the fall. If a battery is starting to lose its power, the unit will usually chirp to warn you.
Don't ignore false alarms! - Smoke detectors don't just sound for no reason. If your unit seems to have more than its share of unfounded false alarms, replace it.
Keep your detectors clean - At least once a year, vacuum or blow out any dust that might accumulate inside the unit and in the slats on the outside cover.
NEVER borrow a battery - NEVER borrow a battery from an alarm to use somewhere else. You might forget to replace it, or the battery might get worn down faster from the other appliance.
NEVER paint a smoke detector - Painting a unit can block the vents in the cover, preventing smoke from getting to the sensors.
Replace your smoke detectors - Replace your smoke detectors every ten years.